Get CNC Machined Components from the Best in the Industry
Owens Industries provides the best high precision CNC services for businesses across the United States. No matter what components you need for your particular business, the professional machinists at Owens can manufacture them with the highest quality materials and tightest tolerances.
Whether you're a manufacturer outsourcing wire EDM services, or need custom components precision machined to introduce groundbreaking technology to the market, our machine shop is the best. We will meet your deadlines and accuracy demands with impeccable machining services, including:


Owens Serves Texas Industries Including:
| | |
| --- | --- |
| For a flawless application, aircraft and aerospace parts demand the highest precision and exacting accuracies. Depend on Owens to deliver components meeting or exceeding your quality standards. | Owens not only provides unmatched 5 axis milling, wire EDM, and lathe services, but we keep the specifics of your components completely confidential, ensuring vital secrets are not leaked. |
| Our CNC professionals are capable of machining a multitude of materials, and to the exact precision required when adhering to food processing industry standards. | Medical manufacturers and innovators alike choose Owens when they need to outsource CNC services, create prototypes, or simply cut costs while improving product quality. |
| When you need complex components for your oil & gas or energy applications, turn to Owens Industries. From micromachining to 5 axis milling, we can meet your every CNC need. | Microscopes, telescopes, cameras, and more requiring 100% accuracy on machined components will get nothing less than expected when Owens is on the job. |
| Food processing plants comply with a number of health codes and industry standards, often requiring parts of their equipment to be machined specific materials and precision; Owens is capable of meeting your exact needs. | Our CNC engineers have extensive experience with components intended for use with a wide variety of tool and die machinery. Tool and die production is a crucial part of many manufacturing processes. |

Complex, Precise Component Manufacturing with 5 Axis Milling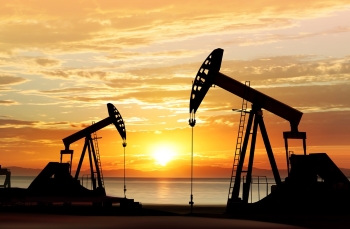 Owens Industries offers customers superior multi-axis CNC machining services. Our 5 axis milling system achieves an angular tolerance of two thousandth's of a degree. We can easily produce precise, complex parts other machine shops are not able to manufacture.
Our skilled machinists utilize 5-axis machining for a number of industries, ranging from oil and gas applications to surgical tool components, producing precise parts with repeatable accuracy and fast turnaround times. From precision gears requiring 1-micron tolerances to anti-locking brake housings for aircrafts, our nationally recognized CNC machine shop has the knowledge and capability to get the job done right and beyond your expectations.
CNC Machining for the Oil and Gas Industry
The oil and gas industry requires incredibly durable components, capable of handling extreme wear and weather conditions. We have engineered custom flappers and flapper valves for oil fire suppression systems, where precision and accuracy need to be perfect. Using our state-of-the-art 5 axis milling machines, we are able to produce complex parts to your exact tolerances and specifications, ensuring a safe, reliable part.
Our CNC machinists are dedicated to exceeding expectations, working with you to bring your parts to perfect completion. Experience the Owens difference today and see why we are the machine shop of choice throughout the country.
Delivering Custom Components with Precision Micromachining
If Texas was its own country, it would be the 12th largest economy in the world, thanks to its thriving industries. Texas is a powerhouse in the oil & gas industry, a leader in the aerospace field, and home to flourishing defense organizations. Leaders in these industries require custom components with tight tolerances machined by top quality precision CNC equipment; and they can find all of these things at Owens Industries.
We utilize a selection of advanced micromachining equipment ranging from 5-axis CNC machinery to wire EDM and everything in between. Our experienced machinists create one of a kind components for countless applications with repeatable accuracy.
Electrical Discharge Machining Capabilities
Wire EDM and Sinker EDM
Owens Industries provides high precision EDM services; including wire EDM and sinker EDM (ram / plunge). Wire EDM offers highly sought after benefits – it continuously cycles new wire through the cutting process allowing for repeatable wire cuts and consistent, accurate results; it can cut multiple layers of sheeting materials at once, increasing productivity and providing cost savings; it can cut a wide range of materials from tungsten carbide to copper, and extremely thin material to 16" work pieces; finally, parts come off the machine with burr-free finishes. Sinker EDM is similar to Wire EDM in its use of an electrode during the machining process and precision results, but the machining techniques differ in a way that allows Sinker EDM to machine components Wire EDM can't, like 3D parts and components that only need to be partially cut.
Owens can help you determine the best machining process for your specific part and application needs. Countless times our shop has solved the production waste problems of our manufacturing clients with first-rate ultra-precision machining. The difference a part repeatedly machined with exacting accuracy can make to the assembly process, and the performance of an application is amazing. The trick is finding a machine shop that can help you identify the best solutions. Owens specializes in CNC machining of complex parts other machine shops think impossible to achieve. Our results are unparalleled by many machine shops in the U.S. Call us today to discuss your part designs!
Owens Industries serves the CNC precision and micromachining needs of Texas, including but not limited to the following cities: