Precision Lathe Machining and Turning Services
Get Information On:
CNC Lathe Machining for the Most Complex Applications
At Owens Industries, we are proud to be leaders in the field of CNC lathe machining and turning. Our team of skilled CNC programmers and machinists are highly trained and experienced, and we utilize state-of-the-art horizontal and vertical turning centers to ensure that every project we take on meets the highest level of precision, accuracy, and quality. We are committed to excellence in everything we do and strive to consistently deliver top-notch results to our clients.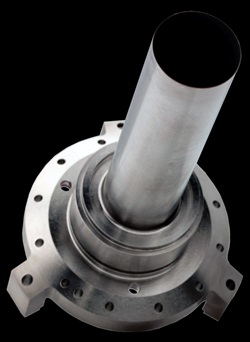 Benefits of CNC Lathe Machining and Turning
Enhanced precision: CNC lathe machining and turning allows for highly precise machining and finishing of components, with tolerances often held to within 0.0001 inches. This level of precision can be difficult to achieve with traditional machining methods.

Increased efficiency: CNC lathe machining and turning is highly automated, which allows for faster turnaround times and reduced labor costs.

Improved repeatability: Because CNC lathe machining and turning relies on computer-controlled processes, parts produced using these methods are consistently identical. This can be particularly important for industries that require strict tolerances and high levels of quality control.

Greater versatility: CNC lathe machining and turning can be used to produce a wide range of components, from small, complex parts to large, heavy duty components. This versatility makes it an ideal solution for a variety of industries and applications.

Enhanced safety: CNC lathe machining and turning reduces the need for manual labor, which can help to minimize the risk of accidents and injuries on the shop floor. In addition, CNC machines can be programmed to follow specific safety protocols, further enhancing safety on the job.
What is CNC Lathe Machining and Turning?
CNC lathe machining and turning is a process in which a computer numerically controlled (CNC) lathe is used to shape and finish a workpiece through the use of rotating cutting tools. In CNC lathe machining and turning, the workpiece is held in place by a chuck and rotated at high speeds while the cutting tools are brought into contact with the workpiece to remove material and create the desired shape.
CNC lathe machining and turning is typically used to produce cylindrical parts, such as shafts, pins, and screws, but it can also be used to produce complex shapes and contours. The process is highly precise and allows for the production of high-quality parts with tight tolerances. CNC lathe machining and turning is widely used in a variety of industries, including aerospace, automotive, medical, and more.
Precision Lathe Turning by the Best in the Business
Owens' CNC lathe machines and turning centers accommodate CAD/CAM software systems. Our CNC lathe/turning department typically works with diameters below 2", but our maximum capacity is 14".


Industries served
Precision lathe work is used across a number of industries to produce precision dependent components with fast manufacturing times and repeatable accuracy, including:
Owens Industries serves these industries and more, consistently exceeding industry quality standards and the capabilities of normal CNC machine shops. We are happy to take on prototype or production machining work.


Lathes & Turning Industry Applications
With a primary function of forming and shaping different materials, lathes have a wide range of industry applications. Ownes Industries lathe and turning processes are best utilized for shaping small parts. Some industries that we have made parts for using lathes and turning include
Owens Industries serves a variety of industries across the nation and world, taking on prototypes and production work. Whether you need precision lathe machining services or have complex components requiring 5-axis or Wire EDM machining services, you can count on Owens to meet your every need and deliver the best possible results.
The Lathe & Turning Experts
Our team of lathe and turning experts have been perfecting their craft for over 30 years. When companies need accurate parts no matter how small, Owens Industries provides them with high-quality lathed and turned components that can't be found anywhere else. Our team of professionals also works on prototype parts. Call our manufacturing engineers today to determine your CNC machining needs, get a prototype created or discuss the work we have completed for clients in the past (helping you see why our clients become lifetime partners after utilizing any Owens service).
Precision Lathe Machining and Turning FAQ
A lathe is a CNC machining tool that rotates a piece of material at high speeds to remove even amounts of the material with a metal cutting tool. Because lathes can easily make symmetrical pieces it is most frequently used to produce cylindrical parts.
Lathes rotate the material and use a single stationary cutter to remove material. Milling utilizes a rotating cutter to remove material for a workpiece that remains stationary.
Computer-controlled metal lathes can achieve tolerances as precise as 0.005".
Lathes can be used for facing, contour turning, chamfering, threading, boring, drilling, knurling and cutoff.
Lathes are versatile machines making them perfect for shaping a wide range of materials for aircraft, military applications, aerospace, medical devices, optical equipment, tools, pharmaceutical, food and many more industries.
Components We've Built Using CNC Lathes/Turning:
| | | | | |
| --- | --- | --- | --- | --- |
| Part | Application | Industry | Material | Specific Feature |
| Grid Clamp | Satellite Component | Space Research | AISI 304 Stainless Steel | Turn 0.044" Thick Ring |
| Cooling Tube | Natural Gas Meter | Energy Industry | OFE C10100 H04 Hard Copper | Mirror Finish- Polish critical |
| Piston | Engine Valve | Aerospace | 7075-T651 Aluminum | Maintaining Class 1 Diameter Fit Tolerance |
| Barrier | CT Scanner | Medical | 718 Inconel | Used Ceramic Tooling for Turning |
| Static Dog Lock | Transmission Control | Oil & Gas | Lescalloy M50 VIM-VAR | Gear Cutting |
| Chamber | Pneumatic Drill Core | Dental Drill Assembly | 17-4 ph Cond H900 | Honing ID to 8 Micro Finish |
| Inner Race | Replaceable Bearing Track | Oil & Gas | M50 Vim-Var IAW AMS 6491 | 8 Micro Finish on Race Profile |
| Nozzle, Dispensing | Drug Dispensing Nozzle | Medicine Production | 17-4 PH Cond H900 | EDM Wire 2mm Thru-Hole over 8 " Length |
| Solenoid Valve Seat | Hydraulic Piston Seat | Mining | 431 Stainless Steel per BS970 | Ballize Seal Seat to 0.078" Profile |
| Micro-Tip | Instrument Cap | Medical | AISI 316 Stainless Steel | Micro Wire EDM |
| Valve Seat | Air Flow Regulator | Aerospace | 347 Stainless Steel | Diameters held within 0.0005" Concentricities |
| Insulator, Conductivity | Element Isolator | Medical Research | Kel-F PCTFE Plastic | Turn Tapered ID Profiles |
| Barbed Tube Adapter | Fiber Optics Alignment | Microscope assembly | 17-4 ph Cond H900 | Drilling 0.025" Holes |
| Lens Cell | Flow Viewing Port | Natural Gas Industry | 6061-T6 Aluminum | Turn 2.075-32 ID Thread |
| DM Cover | Satellite Component | Space Research | 6061-T651 Aluminum | Turn, Mill, and Drill Flanged Cover |
| Pilot End Cap | Fluid Flow | Engine Manufacturing | 1117 CRS | Milling Radial Ports |
| Nozzle Housing | Circuit Board Manufacturing | Electronics | AISI 316 Stainless Steel | EDM Wire 3 Degree Taper Cone with 8 Micro Finish |
| Control Race | Internal Drive Component | Oil & Gas | M50 Vim-Var IAW AMS 6491 | Grind OD Ball Screw and Broach Internal Spline |
| Mirror Assembly | Gas Meter | Energy | OFHC Copper | High Polish 4 Micro Finish |
| Pivot Ball | Military Aircraft | Defense | 316 Stainless Steel | Welding Carbide Ball to Stainless Steel Stem |
| Cylinder Assembly | Flow Channel for Booster Rocket | Satellite Component | A286 Alloy | Deep Drilling Through Interrupted Surfaces |
| Octopole Housing | Beam Orientation | Research and Development | AISI 304 Stainless Steel | Assembly Alignment of 5 Microns or Less |
| Twin Screw Rotor | Blending | Food Processing | AISI 316/316L | Programmed simultaneous 5 Axis Mill/Turn |
If you have complex components with tight tolerance and high precision demands, Owens has the equipment, knowledge, and experience to meet your exact specifications – even if it means exceeding our industry's capabilities. Our team leader for the CNC Lathe department has been with us for 35+ years.
JavaScript is required for this website to fully function.