CNC Machine Shop Making the Impossible Possible
Unbelievably High Complexity & Tolerances? Count on Owens Industries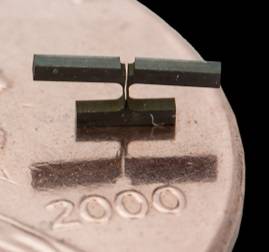 When you need a machine shop capable of machining complex components with the highest precision, you can count on Owens Industries. Our team of highly skilled CNC machinists has the experience and expertise required to produce close tolerance components with 1 to 100-micron accuracy. If other CNC machine shops CAN'T do it, Owens WANTS to. Give us a call today to discuss the manufacturability of your design ideas or to learn more about the capabilities of our facility, machines, and staff.
Services provided, with micron tolerances, by Owens Industries:
Contact our Wisconsin CNC Machine Shop to learn more about our capabilities and get your project started today.
High Precision Machine Shop Serving Industries Nationwide
Since 1944, Owens Industries continues to be a trusted partner to a multitude of industries across the United States. No matter where you are located, if "normal" machine shops think the complex, very tight tolerances your components require are "impossible" to achieve, Owens will provide the best in ultra-precision CNC machining – getting your parts machined to your exact specifications.



From anti-locking brake housings for air crafts and a bicep assembly for a robotic arm (created for the Mars project) to oil well fire suppression system flappers, blood gas analyzers for the medical industry, and tools and dies for manufacturers, Owens' CNC machining capabilities are incredible – matching the incredible precision seen in every component and part our professionals produce.
Decades of experience paired with the personal dedication of our CNC machinists and programmers means no project is too big or too difficult for Owens - making us the best possible OEM parts producer for manufacturers nationwide. We continue to service organizations around the U.S. with high precision machining services, including Florida, California, Texas, Massachusetts, and more.
View our Success Gallery for a firsthand look at the complex components machined by Owens, including product images, 360° product videos, and case studies detailing our work.
Multi-Axis Milling
5 Axis Services Meeting High Precision Demands

Owens is a popular choice across many industries for our multi-axis milling capabilities. Providing 3 and 4 axis machining services we take precision to a new level with 5 axis machining. We use the industry's best 5 axis CNC machines to achieve an angular tolerance of two-thousandths of a degree (.002°). Whether you need prototype or production machining work, Owens will deliver the highest quality services producing the complex and tight tolerances for your component demands.
Electrical Discharge Machining Services
Wire EDM & Sinker EDM Producing Repeatable Accuracy
Owens Industries specializes in Electrical Discharge Machining (EDM). Our industry-leading Sink/Plunge/Ram EDM machines produce the finest details and surface finish work, intricate cavities and shapes, as well as precision gears. Wire EDM machines have high precision .001" wire capabilities allowing a corner radius of .0015". We can also offer positional accuracies of 3µm to 5µm (we have even achieved positional accuracies of .05µm for one customer). Pairing our wire EDM services with a true rotary axis indexing wire EDM, we can offer 5 axis indexing Wire EDM, which most CNC machine shops are not capable of providing.
Depend on Owens Industries for top-of-the-line EDM and 5 axis work exceeding the capabilities of normal CNC Machine Shops.
Micromachining
Owens Gives You a Competitive Advantage on Micron Parts
The demand for smaller and more efficient technology is not going away anytime soon. Micron parts machined to the highest precision with guaranteed reliability is a must for manufacturers in the aircraft, medical, and telecommunications industries. Owens services will meet your demands with exacting accuracies, helping you get a product out on the market unrivaled by your competitors.
Using innovative CNC technology, including 5 axis milling, Wire EDM, and Sinker EDM, our micromachining services produce miniature parts with unparalleled precision results. We use a 300 power magnification camera inspection system, as well as other precision testing equipment, to measure and ensure accuracy. No matter the size of your tiny component, we can machine the necessary intricacies for flawless application operation.
Owens has micromachined a multitude of miniature parts over the years – some used in nuclear armament timing devices, microscopes, optical switches, and much more! Whether you need impellers, nozzles, gears, or something never machined before, Owens will far surpass your expectations and impress like no other machine shop can.
CNC Swiss Machining
Our Tornos Swiss Machining Lathes Offer Ultra Precision Parts with the Tightest Tolerances
Some of the most precise parts made by the professionals at Owens Industries are manufactured by our brand new Tornos CNC Swiss machining lathes. Our team of professionals manufactures CNC Swiss machined parts for industries all over the United States. From optical measurement components to robotic mechanisms, Owens' Swiss machined parts provide businesses with the highest quality manufacturing services with the most affordable prices.
Our new Tornos SwissNano and Swiss GT CNC lathes are operated within our Wisconsin facility, and through specialized radial cutting motions, we're able to manufacture ultra-precise parts with the tightest tolerances and to your exact specifications. Get in touch with our team of CNC engineers and let us provide you and your business with the best CNC Swiss machined parts available on the market.
Precision CNC Facility
Wisconsin CNC Machine Shop Strives for Industry Perfection
Owens Industries operates with the intent to manufacture the highest quality parts while taking zero risks in alteration during the process. Our controlled CNC machining environment prevents outside factors from creating imperfections in your product. We maintain strict control over dust and particles in our EDM room and incorporate temperature monitoring systems sensitive to a half degree—all to produce the highest quality parts for our clients.
No matter what industry you work in, the professional engineers at Owens Industries will manufacture your precision CNC parts for you to your exact specifications. You can rest assured our services will meet your industry standards, and our dedication to the craft allows for the best results and at the most affordable prices.
See Our ISO 9001:2015 and AS 9100 Certificate
ISO 9001:2015 and AS 9100 Certified CNC Machinists Set the Bar for Ultra-Precision Services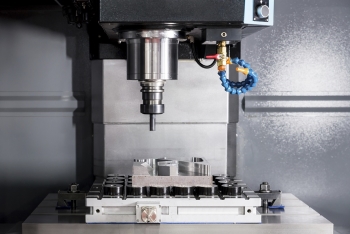 Owens success is derived directly from the success of our clients. As an ISO 9001:2015 and AS 9100 certified CNC Machine Shop, you are assured our services meet industry quality standards. We exceed these standards with a dedication to precision demonstrated by our loyal and talented employees, the best CNC machines in the industry, and a facility designed to handle temperature control needs. For services including precision machining, micromachining, 5 axis CNC milling, wire EDM, Ram/Plunge/Sink EDM, or lathes/turning – rely on no other CNC Machine Shop than Owens Industries.
When Quality and Precision are One in the Same
It takes an experienced engineering team to properly operate our software and produce high-quality parts—but this difficulty threshold is precisely what sets our CNC Machines and their operators apart. X, A three-dimensional CNC Machine gives us more precise positioning and velocity than is possible with manual machining. X, Y, and Z axis control points provide our technicians with the exact machining capabilities our customers need. It makes every product we create better than anything else on the market.
Using our state of the art CNC Machining capabilities, we've worked with a range of industries to create intricate parts and components for systems in:
Satellites
3D heart cavity scanning instrument
Rockets and robots
Lasik surgery devices
And more!
See our case studies to learn more about our services and past work.
CNC Machinists Create High-Quality Precision Medical Components
Medical equipment and device manufacturers everywhere choose Owens Industries for high-quality precision machined components. Our CNC medical components are used in nearly every facet of this industry from diagnostic imaging to surgical procedures. Some of the areas our custom machined components are used for include MRI scanners, biopsy cutters, Trocar/Cannula systems and more.
Owens Industries uses only state-of-the-art technology to create the most reliable components. Our medical CNC machining capabilities include:
Our team of CNC machinists carries out every step of the machining process. We carefully monitor each project from start to finish to ensure your medical components meet your exact specifications.
Owens Industries has best track record for incredibly accurate components and quick turnaround times.
Contact our EDM Machine Shop to get a quote for your project today.