Tennessee's CNC Machine Shop
EDM and 5 Axis CNC Milling Services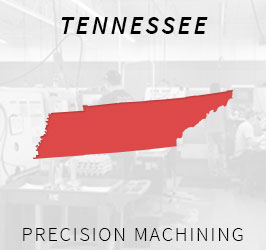 Owens Industries is an ISO certified machine shop, providing critical components for a vase multitude of applications throughout the country. We produce EDM machined components for nearly every type of industry, including:
Owens' EDM machining capabilities produce incredibly fine detail and surface finish work. With a highly refined process, so the spark never touches the piece, electrical discharge machining preserves the integrity of the machined part and guarantees a burr free finish. We produce superior precision parts, even those requiring 1 micron tolerances.
Machined Medical Components for the Health Care Industry
The health care industry in Tennessee is responsible for nearly 210,000 jobs – it's no surprise their medical equipment suppliers rely on Precision CNC Machine Shops to produce the parts critical to their equipment (be it MRI tables, surgical instruments, medical implants, etc.). Our EDM and 5 Axis CNC machine experts will craft the medical parts you need in acceptable turnaround times.
We use cutting edge 5 axis milling centers, which can achieve an angular tolerance of .002˚. Since 1944, Owens has been renowned for our fast turnaround times and consistent production of highly precise components. Whether you need precision surgical instruments or a MRI collimator, Owens Industries has the ideal solution tailored to your specific needs. We are happy to work with you to help perfect your design, call us for a quote today!
Contact the precision EDM specialists at Owens for your next Tennessee project.

Owens Industries serves the CNC precision and micromachining needs of Tennessee, including but not limited to the following cities: