The CNC Machine Shop North Carolina Trusts
Components Precision CNC Machined to your Exact Specifications
Owens Industries is an ISO Certified machine shop, serving industry professionals in North Carolina with the highest precision machining services – Wire EDM, Sink/Plunge/Ram EDM, 5 Axis Milling, Lathe/Turning Work, and Micromachining.
Owens machining process produces incredibly fine detail and surface finish work, intricate cavities and precision gears. Wire EDM work is widely popular due to its ultra-refined process - the spark never comes into contact with the machined part, maintaining the integrity of the material and resulting in a burr-free finish. If you are looking to manufacture precision gears, choose Owens – we frequently produce precision gears with tolerance requirements as low as 1 micron.
Learn more about Owens precision CNC machining services in North Carolina today. Contact us to get an estimate on your next project.

| | |
| --- | --- |
| For a flawless application, aircraft and aerospace parts demand the highest precision and exacting accuracies. Depend on Owens to deliver components meeting or exceeding your quality standards. | Owens not only provides unmatched 5 axis milling, wire EDM, and lathe services, but we keep the specifics of your components completely confidential, ensuring vital secrets are not leaked. |
| Our CNC professionals are capable of machining a multitude of aircraft components, and to the exact precision required when adhering to the highest industry standards. | Medical manufacturers and innovators alike choose Owens when they need to outsource CNC services, create prototypes, or simply cut costs while improving product quality. |
| When you need complex components for your oil & gas or energy applications, turn to Owens Industries. From micromachining to 5 axis milling, we can meet your every CNC need. | Microscopes, telescopes, cameras, and more requiring 100% accuracy on machined components will get nothing less than expected when Owens is on the job. |
| Food processing plants comply with a number of health codes and industry standards, often requiring parts of their equipment to be machined specific materials and precision; Owens is capable of meeting your exact needs. | Our CNC engineers have extensive experience with components intended for use with a wide variety of tool and die machinery. Tool and die production is a crucial part of many manufacturing processes. |
Machine Shop Achieving Precise Accuracies on Custom Components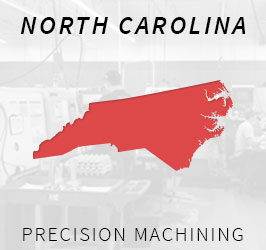 When you choose Owens Industries for you CNC machining needs, you are guaranteed unbeatable precision. Our 5 axis milling machines alone allow us to achieve an angular tolerance of just .002°. Paired with our old world deburring process (by hand), your parts and/or assemblies will perfectly meet your specifications and application needs.
Our team of manufacturing engineers have decades of experience (for most, a lifetime of CNC machining experience), producing consistently superior components for industries across the country. Owens is renowned for our fast turnaround times, manufacturing precision dependent components with repeatable accuracy. From surgical instruments to aircraft parts to complex optical components like a collimator, Owens Industries has the ideal solution tailored to your specific needs.
Contact our precision machining engineers today to discuss your North Carolina micromachining needs.

Owens Industries serves the CNC precision and micromachining needs of North Carolina, including but not limited to the following cities: