CNC Machining For Every Minnesota Industry
World-Renowned Precision Machining Services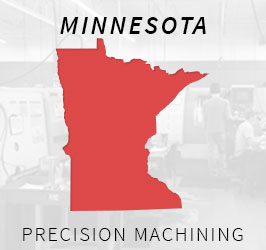 Owens Industries is internationally recognized for producing high quality CNC machined components. We have over 7 decades in the precision machining industry, and frequently help our clients improve their initial part designs for a flawlessly operating application.
By partnering with Owens, you'll achieve unmatched machining with incredible accuracy. We work with leading German and Swiss companies to create specialty CNC machining equipment, like our 5 Axis milling centers. Micromachining capabilities utilizing both 5 axis milling and Wire EDM allow us to achieve accuracies other machine shops are not capable of matching.
Precision Milling Services
Since 1944, Owens has been manufacturing ultra-high precision components with tight tolerances. We boast a state-of-the-art dust and temperature controlled facility and highly skilled staff of CNC machinists. Owens continues to lead in the machining industry with exacting results meeting our clients' unique needs. Custom components from Owens are produced with fast turnaround times and repeatable accuracy, consistently exceeding our client's expectations. We serve a broad range of industries, including:
No matter if you work in the aircraft, medical or oil industries, the precision-machining experts at Owens Industries can help you with whatever part you need. We consistently offer the best in high quality CNC machining services, 5 axis work, Wire EDM, micromachining, and much more to businesses throughout the state of Minnesota.



Precise Medical Components for Minnesota's Health Care Industry
Minnesota is a leader in biosciences and home to the world famous Mayo Clinic - its health care professionals demanding precise medical equipment to continue their fine work. Owens Industries is a leader in precision-crafted components and has the capabilities to construct custom equipment with our 5-Axis contour machining services.
Our engineering staff is dedicated to providing high quality CNC machining services from the Twin Cities to St. Cloud, with precise results. Call us today to learn more about our precision machined parts and how we can use them to benefit your health care business.
Owens Industries serves the CNC precision and micromachining needs of Minnesota, including but not limited to the following cities: