Kentucky's Micromachine Shop For Every Industry
Micromachining Experts Achieve Exacting Results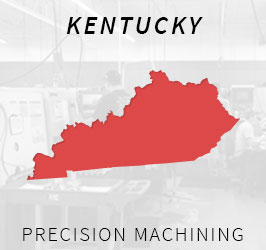 Biotechnology and Life Sciences are top industries in Kentucky, each requiring professional micromachining services to manufacturer precision components critical to the completion of innovative and lifesaving technologies and products. Owens Industries' skilled CNC machinists provide services meeting our clients exact specifications with turnaround times meeting their needs. Our CNC machining capabilities include: 3, 4, and 5 Axis Milling; Ram, Plunge, Sinker, and Wire EDM; Lathe and Turning. Before finishing each part with a by-hand deburring process, we run several comprehensive precision tests to ensure exacting accuracies.
Owens has machined a variety of complex components, including:
Miniature gears for the ophthalmic industry
Electron microscope accessories
Fiber optic components including MEMs
Impellers for VADs – Ventricular Assist Devices
Optical switch components such as collimators
If you have complex components with high demand for accuracy and precision, you want Owens on the job.
Producing Complex Components Critical To Innovative Products
Owens Industries has the best CNC machining equipment on the market, pairing state-of-the-art technology with years of dedicated skill and experience of our staff to provide ultra-precision results. Every aspect of our controlled facility is designed to perfectly machine complex components with high precision requirements. The positive airflow pressure in our Wire EDM department keeps a room temperature within +/- 0.5 degrees. This ability to maintain exact temperatures within a room is critical during machining processes. Dust and particles within the air are also controlled by using Electrostatic and Ion Filtration systems. To achieve the impossible, it takes an immaculate facility and CNC machinists and programmers who dedicate themselves to creating products of absolute perfection.


Contact our CNC precision machinists to learn more about our facility or to discuss the manufacturability of your design.
Owens Industries serves the CNC precision and micromachining needs of Kentucky, including but not limited to the following cities:
| | | | |
| --- | --- | --- | --- |
| Lexington | Louisville | Bowling Green | Owensboro |
| Covington | Georgetown | Florence | Richmond |
JavaScript is required for this website to fully function.