Precision CNC Machine Shop Serving Alabama
CNC Machining for Industries Across Alabama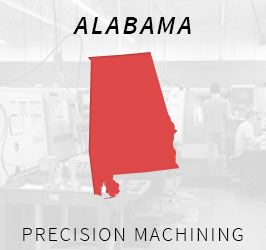 Owens' machinists are internationally recognized for producing high quality CNC machined components. With over six decades of experience in the machining industry, we offer unmatched customer service - often helping our client's improve their initial prototype and application designs. Through detailed precision tests, we can pin point small inaccuracies which would otherwise go unnoticed.
Owens Industries provides unmatched CNC machining services, partnering with the leading German and Swiss CNC Machine Manufacturers to develop state-of-the-art equipment capable of meeting our precision machining requirements. Using this innovative technology, we achieve accuracies other machine shops are not capable of replicating.
Micromachining for Tight Tolerances
For over 70 years, we have been manufacturing high precision components with incredible tolerances. Our facility is dust and temperature controlled for ideal micromachining processes. We are an ISO certified machine shop, and continue to lead the machining industry with ultra-precision part results. We produce custom components with fast turnaround times and repeatable accuracy, always exceeding client expectations. We serve a wide variety of industries, ranging from aerospace and aircraft to medical and optics. Our entire engineering team is committed to providing each customer with the highest quality machining services and precise results.


Machined Components for the Alabama Aeronautics Industry
Alabama has a rich history when it comes to flight, and was the first location of the Wright Brothers' civilian flight school established in 1910. NASA turned to facilities in Huntsville to build the Saturn V Rocket, which landed the first humans on the moon. Even today, Raytheon, Lockheed-Martin and Boeing keep facilities in Alabama.
Owen Industries has its own avionics history. When tasked by NASA to produce precise components for a robot arm, we hit the challenge head on. Owens has produced aviation and aerospace components for a number of applications. Experience the Owens difference by partnering with us for your next project requiring miniature parts with exacting accuracies and precision.
Contact our precision micromachining specialists to learn more about our capabilities and what we can do for you.
Owens Industries serves the CNC precision and micromachining needs of Alabama, including but not limited to the following cities: