CNC Machining Services For Every Pennsylvania Industry
Internationally Recognized Precision CNC Machining Services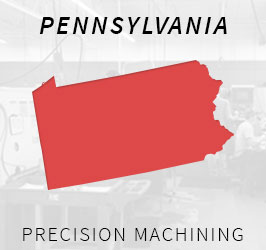 Owens machinists are globally renowned for producing high-quality CNC micromachining services. With decades of experience in the machining industry, we frequently help our clients perfect their initial prototypes and designs – improving small accuracies which may have gone unnoticed. Our clients know partnering with Owens results in improved part and application designs. Owens boasts unmatched CNC machining capacities. Leading German and Swiss companies create specialty CNC machining equipment, like our 5 Axis milling centers, which allow us to achieve accuracies other machine shops are not capable of producing.
Aerospace Component Machining
When tasked to produce precise aerospace parts by GM and NASA for use in their Robonaut, our experienced machinists were excited to tackle the challenge. Owens Industries is always enthusiastic about opportunities to produce quality 5 Axis, Wire EDM, and Sink EDM crafted parts for use in aircraft and aerospace applications.
Since 1944, we have been manufacturing ultra-high precision components with incredible tolerances. From our dust and temperature controlled facility to our highly skilled CNC machinists, Owens continues to lead the machining industry in innovation and precision. We produce custom components with fast turnaround times and repeatable accuracy, always exceeding client expectations. We serve a wide variety of industries, including:
Our engineering staff is dedicated to providing the highest quality CNC machining services with tight tolerances and precise results.
Contact the precision machining specialists at Owens to inquire about the manufacturability of your part design.

Owens Industries serves the CNC precision and micromachining needs of Pennsylvania, including but not limited to the following cities:
JavaScript is required for this website to fully function.