Serving The Aerospace Industry In Nevada
5 Axis Milling for Aerospace Parts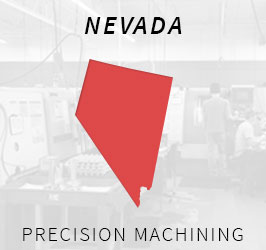 Owens Industries' CNC machinists strive to obtain the most precise micron accuracies for your OEM parts. With 5 axis machining we achieve precision results other "normal" machine shops cannot. When the aerospace industry has called on Owens' for quality CNC parts with the tightest tolerances, we have delivered. The Nellis Air Force sector in Nevada is in need of high-end machined components, and Owens is more than capable of providing Nevada with all of its CNC machining needs for the aircraft industry. Some of the parts we have designed specifically for aircrafts are listed below:
Jet assemblies
Support Assemblies
Swivel Brackets
Aerospace and aircraft parts require high precision accuracy due to the rough conditions their applications are used in. 5 axis milling centers and Wire EDM machines are utilized at Owens to provide the absolute best micromachining services on the market. When you partner with Owens Industries for your complex component needs, you'll be impressed by our expertise, precision results, and turnaround times. Before we package and ship your machined parts, a series of tests are performed to ensure the product meets the exact specifications set. Parts machined by Owens Industries are perfect when compared to their designs – not close to perfect or nearly perfect, they are exact.
Precision CNC Machining Services You Can Rely On
The layout and design of our facility is specifically created to construct high-end machining components. With both our experienced staff and state-of-the-art machining equipment, Owens has become a trusted partner for CNC machining services in Nevada. Our services include:



Owens employees are a family, and the Owens' facility our home. Some of our CNC programmers and machinists joined us straight out of tech school, and 20 to 30 years later are still with us. Several of our staff have developed their skills to a level labeling them industry leaders in their trait. They play major roles in our mission – providing a wide variety of industries with ultra-precision machining services. You can depend on us for high quality CNC machining and reputable customer service.
Contact our CNC Machine Shop for exceptional CNC machining services in Nevada.
Owens Industries serves the CNC precision and micromachining needs of Nevada, including but not limited to the following cities:
| | | | |
| --- | --- | --- | --- |
| Las Vegas | Henderson | Reno | North Las Vegas |
| Spring Valley | Enterprise | Sunrise Manor | Paradise |
JavaScript is required for this website to fully function.