Nebraska CNC Machine Shop
Military Components Micromachined with the Highest Precision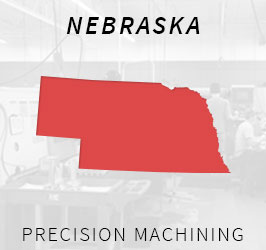 Owens Industries is a skilled producer of tight-tolerance parts for the military and defense industry. We have over 65 years of experience machining complex components to client's exact specifications. Whatever the challenge, you can depend on Owens' CNC machinists and programmers to get the job done right. With experience in a multiple industries, Owens is very capable of providing Nebraska's defense industry with high-end precision machining.
At Offutt Air Base, the consistent performance of high-precision machined parts is of the utmost importance. At Owens Industries, we pride ourselves on achieving the tightest tolerances possible through micromachining, utilizing 5 axis milling and wire EDM services performed in a temperature and dust controlled environment. We have produced a number of components for the military and aerospace industries including:
Hydrogen Valve housing for use in atomic missile systems
Anti-lock aircraft brake components
Assemblies of a GM and NASA developed robot arm
Custom jest assembly components
Click the following link to view a list of past components machined by Owens for a number of different industries, including medical, oil & gas, military, aircraft, and aerospace.
5 Axis Milling for Military Part Manufacturers in Nebraska
Owens Industries offers the same machining services as "normal" machine shops, but take our capabilities even further. We utilize the best CNC machining equipment on the market, including 5 axis milling centers. Once you experience Owens' machining services, you'll partner with us for all of your CNC micromachining needs. We exceed our client's expectations on a regular basis, more often than not providing machining solutions for complex components other machine shops were incapable of producing. If you've been told your component is too complex to machine, or it simply can't be done, contact Owens today. That is our favorite kind of client!
Making the impossible possible every day – Owens Industries.

Owens Industries serves the CNC precision and micromachining needs of Nebraska, including but not limited to the following cities:
| | | | |
| --- | --- | --- | --- |
| Omaha | Lincoln | Bellevue | Grand Island |