Precision CNC Machined Parts For Annapolis, Maryland
Precision CNC Machining in Annapolis, Maryland
Custom Parts Discreetly Manufactured for Military Applications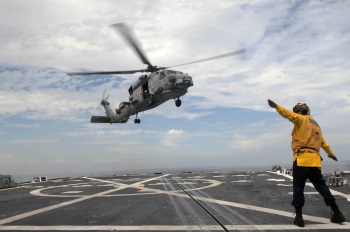 The military holds their manufacturer's to a higher standard than most industries. The equipment they use has to stand up to the rigors of combat and keep performing. Poor quality parts can cause equipment to fail and lives to be lost.
Owens Industries is an experienced fabricator of precision components for defense and commercial purposes. We began providing precision machining services to the US Military during World War II, and we've been a trusted source of CNC machined components ever since.
We've come a long way in the last 80 years. Our methods have become more advanced with the use of 5-axis milling, micromachining, wire EDM, and Swiss machining. Just as we are constantly working to advance our processes, we always strive to set higher standards for ourselves.
Military Equipment Parts Manufactured With Discretion and Precision
We recognize that it is not always possible to disclose all of the information regarding the specific application of parts for military use. With this in mind we are happy to work from your design to meet the exact demands of your project. Regardless of what your part will be used for, we will guarantee the highest quality and precision possible.
Additionally, all of our employees, vendors and visitors are required to sign confidentiality agreements to keep our work on your project as discreet as possible
Owens Industries has experience handling military and defense projects including manufacturing components for:
Artillery
Fighter Aircraft
Missiles

Experience With Precision Tolerances, Unique Materials and Demanding Applications
Owens Industries has experience in aerospace, defense and medical manufacturing, where inadequate equipment can mean mission failure, injury or death. Despite those high stakes, industry leaders have trusted Owens Industries to deliver products machined to within 1 micron, produce work from materials such as Inconel and superconducting high purity copper. For difficult jobs where failure isn't an option, Owens Industries is a trusted producer of parts and components.
Call the defense manufacturers at Owens Industries today to get a quote on precision parts.