Aircraft Custom CNC Machined Components
Custom Air Force and Aircraft Components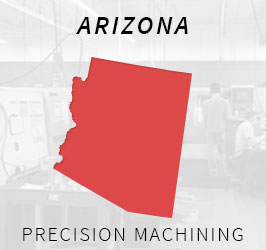 With the United States Air Force Department and several bases, including the Davis Monthan and Luke Air Force Bases, located in prime areas of Arizona – precision based micromachining services are in high demand. Owens Industries is a leader in producing high-quality aircraft parts, like anti-lock aircraft brake components. Our facility is equipped with the latest CNC machining technology, including 3, 4 and 5 Axis milling centers; ram, plunge, sinker, and wire EDM machines, and more to ensure quality machined products. Many members of our CNC engineering team have at least a decade of experience producing reliable components machined to our clients' exact specifications. From jet assemblies to custom aircraft parts we guarantee reliable products with fast turnaround times.
Quality Machined Components for Your Specific Application
The CNC machinists at Owens develop custom solutions for nearly any machining problem. We utilize a wide variety of military-grade materials, including:
Inconel
High Purity Aluminum
Stainless Steel
High Purity Copper
Invar and Kovar
Titanium
Everyone who enters our facility is required to sign a confidentiality agreement – ensuring all sensitive information is kept secure. Our team will create the components you need without knowing the exact application of the part. The incredible customer service and precision capabilities provided by Owens Industries is what makes us a CNC industry leader throughout the country.


Owens Industries serves the CNC precision and micromachining needs of Arizona, including but not limited to the following cities:
JavaScript is required for this website to fully function.