Georgia Go To CNC Machine Shop
Precision Micromachining for the Medical Industry
Based in Atlanta, The United States Center for Disease Control and Prevention has made Georgia an innovative leader in the creation and manufacturing of medical components critical to life saving applications. Owens Industries is frequently relied upon by medical professionals throughout the country, manufacturing critical components for surgical instruments, medical devices, and prototypes. Our CNC machining professionals develop and manufacture precise components to the tightest tolerances and accuracies, utilizing: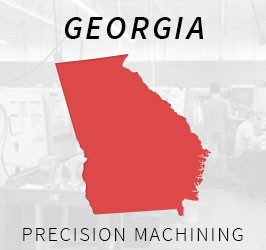 Owens CNC machining capabilities exceed that of most Machine Shops in the U.S. and around the world. Where other machine shops fall short, Owens creates the exact products you need, with turnaround times to match. Owens has machined a multitude of medical components, including:
Medical lift used for minimally invasive bladder surgery
All parts (excluding the motor) of a Lasik Surgery Device
Critical component in a Ventricular Assist Device
Jaw implant prototype
Pill dispenser
Titanium component for spinal fixation purposes
CT scanner collimators
MRI table components
And more!
EDM and 5 Axis Milling Services for Unmatched Precision
Superior 5 axis milling, EDM, and micromachining capabilities paired with our state-of-the-art temperature and dust controlled facility allows our CNC machinists to consistently manufacture incredibly small components meeting your exact needs. From specialty components to full assemblies, the results are always the same – ultra-precise, safe, reliable medical parts / devices used in hospitals and surgical centers around the world. We provide incredible service to each of our clients – welcoming any challenge and repeatedly exceeding the capabilities of "normal" machine shops nationwide.
Contact our micromachining professionals to discuss the manufacturability of your Georgia medical components today!
Owens Industries serves all of the CNC precision and micromachining needs of Georgia, including but not limited to the following cities:
| | | | |
| --- | --- | --- | --- |
| Atlanta | Macon | Columbus | Augusta |
| Athens | Sandy Springs | Savannah | South Fulton |
| Roswell | Johns Creek | Hinesville | Albany |
JavaScript is required for this website to fully function.