Precision CNC Swiss Machining for All Your Manufacturing Needs
The professionals at Owens Industries offer the latest in CNC Swiss machining technology to service a wide variety of industries all over the United States. If you need a complex component made by a manufacturer you can trust with ultra precision machining, the experts at Owens Industries can do the job. Our skilled CNC machinists have years of experience providing the highest quality services to our customers while exceeding industry standards of precision part manufacturing.
From 5 axis milling to wire EDM machining, the professionals at Owens Industries can help you with whatever CNC machined part you need. Contact us today to get a quote on our services.
What is Swiss CNC Machining?
Swiss machining is a type of precision manufacturing where parts are formed by CNC unit-operated lathes which rotate the part in a radial motion when cutting it. This type of specialized tool cutting allows the machine to perform several operations at once in a shorter amount of time.
Owens Industries' specific Swiss lathe turning applications center on micromachining in the 1mm to 4mm diameter range, as well as complex B axis milling and eccentric applications up to 26mm in diameter.
The industry-specific applications we use CNC Swiss machining for include:
Optical measurement components
Guidance systems
Watch industry components
Micro Computer fittings and connectors
Robotic mechanisms
Fuel systems
Defense systems
The Swiss CNC machines at Owens Industries manufacture the highest precision components on the market, creating parts with extreme accuracy and within a few tenths of a thousandth of an inch. Swiss CNC lathes are definitely the way to go when you need a part made to the most precise accuracy possible while saving both time and money.
SwissNano and Swiss GT CNC Lathes from Tornos
Owens Industries uses only the latest technology with Tornos CNC Swiss machining lathes at our facility. These specialized Swiss lathes are used to cut some of the most precise and complex components possible, and with its 5-axis machining capabilities, excellent accessibility, and modular tooling system, your Swiss machined precision parts can be manufactured with ease and perfection.
The Tornos SwissNano lathe kinematics produces the tiniest parts with the highest precision. Often used for precise part cutting in micromachining applications, the SwissNano's capabilities extend beyond what one would expect from any other type of CNC Swiss lathe.
The Tornos Swiss GT lathe offers versatility with a modular tooling system design and easy adjustment settings. This lathe is specifically designed for the production of all types of precise parts, and thanks to its B-axis technology, we can ensure successful production of long and short turned parts.
Machining Services for Your Exact Needs
Owens Industries is the machine shop of choice for a wide variety of industries. Whether you need precision machining, wire EDM services, or sinker EDM machining, our team of CNC experts are capable of producing the finest precision parts to your exact specifications. Owens Industries has had decades of experience manufacturing precision parts for a wide variety of industries, and your business can use our services for whatever needs you have.
Our Swiss lathe machining technology is designed to meet the demand of all types of industries. No matter if you work in the medical field, the aerospace industry or the military, CNC Swiss machined parts can be manufactured to your exact specifications. You can learn all about the precision CNC machining services we do here at Owens Industries.
Micromachining Services from Owens Industries
The professionals at Owens Industries offer micromachining CNC services using Wire EDM, Sink EDM, and 5-axis machining. We take pride in every miniature component we manufacture, the more complex the better – our machine shop can accomplish the impossible through the latest CNC technology in micromachining. We make flawless components with proficient technology every time – guaranteed.
5-Axis Machining with Owens Industries
CNC Swiss machining allows for the lathe to move a component along several different axes, giving the part a precise cut with the tightest tolerances. Much like with Swiss machining, 5-axis machining lathes can rotate a component along 5 different axes, allowing for the most accurate cut for each component. 5-axis machining can be used for a wide variety of applications, including:
Medical devices
Aerospace components
Aircraft parts
And much more
The precision and accuracy with 5-axis machining is unmatched, and no matter if you work in the medical industry or at an aerospace company, 5-axis machined parts are necessary for the most high-quality precision parts that exceed industry quality standards, and with its low cost of production, this type of machining is the best option for you. Contact Owens Industries today to learn more.
Swiss Cut Components for Your Industry
Owens Industries provides high-quality CNC Swiss machining services to industries all over the United States. Whether you work in the medical field or for a company for the aerospace industry, you understand how important precision CNC parts are for particular systems. From CT scanners to robotic systems, and aircraft parts to couplers, properly-made precision parts are a necessity for many types of technological components to run.
Swiss CNC Machined Components for Medical Applications
All types of surgical tools and medical devices need precision-cut parts to be made for them, and the professionals at Owens Industries can make them to the medical industry's precise standards. We develop parts for all types of medical equipment, including:
Catheters
Ultrasound machines
CT scanners
Handheld surgical devices
Litigation devices
And much more
We develop a wide variety of CNC and precision-made devices and parts for the medical industry, and we can help you with whatever medical application you need. Give us a call today and get a quote on our precision machining services.
CNC Swiss Machining for Optical Components
Owens Industries manufactures a wide range of products used in the optics industry, and our specialized Tornos Swiss machining lathes are ideal for fabricating precise optical components with the tightest tolerances. Researchers all over the United States need high-quality parts for their particular optical applications, and the professionals at Owens Industries provide you with the highest quality components at the lowest possible price.
Some of the CNC Swiss machined products needed in the optical industry include:
Microscopes
Telescopes
Cameras
Glasses
And much more
Professional Swiss Machining Services for the Tool & Die Industry
Tool and die makers often need custom manufactured components made by CNC professionals to help them do their work – everything from drill bits to jigs, tool makers use a wide variety of parts to manufacture their equipment. Owens' CNC Swiss machining services offer the highest quality precision parts for the tool & die making industry, and our expertly-crafted components are sure to improve your manufacturing results overall.
Our Tornos Swiss CNC lathes offer the most precise measurements when manufacturing components for dies, molds, machine tools, gauges, and more. Our unit-operated Swiss lathes use radial movements to cut the part to an exact size, and your industry will be able to benefit from having the highest quality components available at the lowest possible prices.
The Aerospace Industry Trusts Owens' CNC Swiss Precision Parts
Every part used in a plane or fighter jet must be made to the most precise specifications, or else the entire operation could completely fail. The CNC experts at Owens Industries create CNC Swiss machine manufactured precision parts for the aerospace industry, and we can guarantee the parts will be made to your exact specifications.
Some parts we can manufacture for your aerospace application include:
Aerospace couplers
Flanges
Retainer rings
Aircraft seat frames
Guidance fins
And much more
Get in touch with the professional CNC Swiss machined part manufacturers at Owens today to get a quote on our services.
The Best Food Manufacturing Plants Need Swiss Machined Parts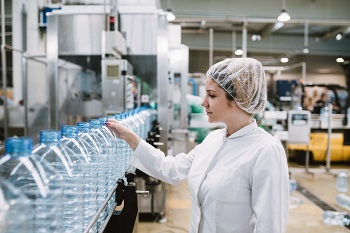 Owens Industries utilizes several top-of-the-line CNC Swiss machining lathes to manufacture the best precision components for the food manufacturing industry. The expert machinists at Owens know precisely what components you need to keep your food manufacturing and processing company running properly. Our precision Swiss lathe work makes components for food production equipment, including:
Conveyor belts
Motors
OEM machines
Stainless steel mixers
And much more
With our expert machining services and precision lathe work, we guarantee your components will be made with the tightest tolerances and highest-quality materials. The highly-equipped machine shop at Owens Industries is one of the best in the United States, and we will provide you with expert services at the lowest possible prices.
The Latest Technology in Manufacturing Precision Components
Businesses all over the United States trust the machining experts at Owens Industries to manufacture the best OEM parts for them. From medical devices to aircraft parts, Owens can meet your exact needs with our specially designed OEM parts made by our advanced CNC machines.
Call the CNC experts at Owens Industries when you need a Swiss machined part manufactured for your particular industry. We are dedicated to providing you with the very best precision parts at the best possible prices – get in touch with one of our CNC experts to get more information on our specialized machining services.
Call the CNC Swiss machining specialists at Owens Industries today to get a quote on our services.