Custom CNC Machining Services
Online CNC Quotes for Custom Parts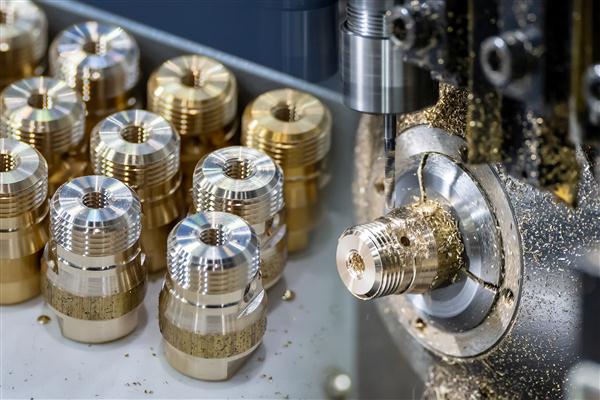 Owens Industries delivers fast quotes online for custom CNC parts. We develop high-precision CNC prototypes and full production parts at impossibly high tolerances for almost any application.
Fill out the form to get a quote from our machine shop today.

✔Online Quoting
✔Up to .00004" positional accuracies
✔ Micron-level tolerances
✔ Angular tolerances of .002°
CNC Prototyping for Custom Parts
The first step to mass-producing CNC parts is developing a prototype to ensure your blueprints are accurate and the parts will work correctly.
Owens Industries provides high-quality CNC prototyping services for the aerospace industry, medical industry, and all industries in between. We combine our 5 Axis machining, micromachining, and custom CNC milling capabilities with high-quality metals and materials to develop successful, customized component parts.
If you need help deciding which material will work best for your prototype, we can help. Already know what material you need to us? Perfect. Send us the details of your project and we can send you a quote right away!
Custom EDM, 5 Axis, and Precision CNC Milling Services
Owens Industries goes beyond the capabilities of normal CNC machine shops, helping you achieve the tight tolerances and ultra-precision our competitors can only dream of accomplishing. With a cleanroom type facility, 5 axis machining centers (capable of achieving unparalleled accuracies), Wire and Sink EDM machines with micron tolerances, and highly experienced machinists, you can count on Owens Industries to produce the most complex components meeting your exact specifications with ease.
CNC Parts Made from Aluminum, Stainless Steel, and More
Owens Industries has the ability to produce precision parts at high tolerances with a wide variety of materials intended for all kinds of applications. Choosing the right material to manufacture your prototype, small-batch, or full production CNC parts is critical in ensuring your application works correctly and efficiently.
Our professional CNC machinists have many years of experience in developing custom parts from a large collection of materials, including:
Learn More about our Custom CNC Services
CNC Swiss machining services offer a wide range of components manufactured for the medical, aerospace or optic industries. Our Oak Creek, WI CNC facility has the latest technology in Tornos CNC Swiss machining lathes for the most precise components manufactured for your exact application. No matter if you work in the medical field or at a company that manufactures aerospace parts, the professionals at Owens Industries can manufacture the best Swiss CNC components.
Unique Capabilities with 5 Axis Machining and EDM Beyond that of Normal CNC Machine Shops
While we certainly have the usual 4 axis CNC machining centers, CNC lathes, accurate grinders, hones, and lapping equipment, it is our advanced 5 axis machining centers and wire EDM that gives us additional and unique capabilities. We can perform 3, 4, and 5 axis CNC milling with tolerances from millionths to thousandths of an inch. Tolerances in the 3 to 10 microns range are easily achieved by our machinists. Our best work (speaking in metric), in a unique situation, was achieving a tolerance of 0.5 microns. Which is typically even beyond our capabilities. Micromachining ServicesThe simpler 3 or 4 axis CNC precision machine work and CNC lathe work produce tolerances in the range of 20 to 100 micron (.00008" to .004"). Our commitment to ultra-precision work limits the size of our work envelope to a maximum of X:24", Y:14", Z:12". While we do have grinders, we do not accept production grinding work. We use our grinders exclusively to support our complex project work.
Our CNC Machines Offer Many Benefits Compared to Other Metal Working Equipment
CNC machines are more accurate, efficient, and safer when compared to other forms of metalwork (including casting and laser cutting). They allow for l production work to be completed to higher quality standards, ensuring each part machined is perfectly accurate. With 5 axis and machining centers and micron accuracy EDM, our capabilities go far beyond that of normal metal fabricators. Owens Industries is particularly qualified to handle high-end ultra-precision machining work. Call our machinists today to learn about our services and how they can benefit you and your complex component needs.