CNC Machine Shop Making the Impossible Possible
Impossible Tolerances? Unbelievable Complexity? Count on Owens Industries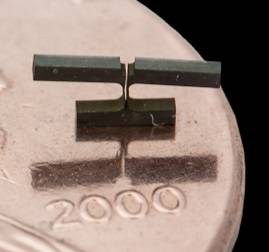 When you need a machine shop capable of machining complex components with the highest precision, you can count on Owens Industries. Our team of highly skilled CNC machinists have the experience and expertise required to produce close tolerance components with 1 to 100 micron accuracy. If other CNC machine shops CAN'T do it, Owens WANTS to. Give us a call today to discuss the manufacturability of your design ideas or to learn more about the capabilities of our facility, machines, and staff.
Services provided, with micron tolerances, by Owens Industries:
Precision CNC Milling (3, 4, and 5 axis work)
Wire EDM Machining (.0015" corner radii and up to .00004" positional accuracies)
Sink/Plunge/Ram EDM
Super Precision Lathe Work
Contact our Wisconsin CNC Machine Shop to learn more about our capabilities and get your project started today.
High Precision Machine Shop Serving Industries Nationwide
Since 1944, Owens Industries continues to be a trusted partner to a multitude of industries across the United States. No matter where you are located, if "normal" machine shops think the complex, very tight tolerances your components require are "impossible" to achieve, Owens will provide the best in ultra-precision CNC machining – getting your parts machined to your exact specifications.

Industries served by Owens include:
Aerospace
Aircraft
Defense/Military
Energy/Oil/Gas
Medical Systems & Devices
Telecommunications & Fiber Optics
Optical & Electron Microscope
From anti-locking brake housings for air crafts and a bicep assembly for a robotic arm (created for the Mars project) to oil well fire suppression system flappers to blood gas analyzers for the medical industry, Owens' CNC machining capabilities are incredible – matching the incredible precision seen in every component and part our professionals produce.
View our Success Gallery for a firsthand look at the complex components machined by Owens, including product images, 360° product videos, and case studies detailing our work.
EDM and 5 Axis Machining Services Meeting High Accuracy Demands

Any CNC machine shop can provide 3 and 4 axis machining services. Owens Industries takes precision to a new level by offering 5 axis machining services. We use the industry's best 5 axis CNC machines to achieve an angular tolerance of two thousandth's of a degree (.002°). Whether you need prototype or production machining work, Owens will deliver the highest quality services producing the complex and tight tolerances for your component demands.
Complementing the precision of our 5 axis CNC machines, we specialize in Electrical Discharge Machining (EDM) work as well. Our industry leading Sink/Plunge/Ram EDM machines produce the finest details and surface finish work, intricate cavities and shapes, as well as precision gears. Our wire EDM machines have high precision .001" wire capabilities allowing a corner radius of .0015". We can also offer positional accuracies of 3µm to 5µm (we have even achieved positional accuracies of .05µm for one customer). Pairing our wire EDM services with a true rotary axis indexing wire EDM, we can offer 5 axis indexing Wire EDM, which most CNC machine shops are not capable of providing.
Depend on Owens Industries for top of the line EDM and 5 axis work exceeding the capabilities of normal CNC Machine Shops.
ISO 9001:2008 Certified CNC Machinists Set the Bar for Ultra Precision Services
Owens success is derived directly from the success of our clients. As an ISO 9001:2008 certified CNC Machine Shop, you are assured our services meet industry quality standards. We exceed these standards with a dedication to precision demonstrated by our loyal and talented employees, the best CNC machines in the industry, and a facility designed to handle temperature control needs. For services including precision machining, micromachining, 5 axis CNC milling, wire EDM, Ram/Plunge/Sink EDM, or lathes/turning – rely on no other CNC Machine Shop than Owens Industries.
Contact our EDM Machine Shop to get a quote on your project today.