Wisconsin 5 Axis CNC Machine Shop
Serving Manufacturers Nationwide with Superior Precision Milling Services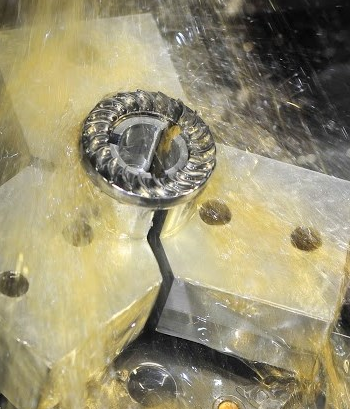 Smoother surface finish, longer tool life, reduced set up time, and increased accuracy on every part are only a few of the reasons we offer 5-axis machining services. Specially calibrated, our state-of-the-art milling centers produce the highest level of precision; cutting costs by reducing product waste. No matter how complex your component needs, we have a 5-axis solution to meet your exact specifications.
We work extensively with a variety of quality materials, including:
Stainless Steel
Inconnel
High Purity Aluminum
Super Conducting, Very High Purity Copper
Kovar
Invar
Titanium
Our facility is temperature and dust controlled to create the most ideal environment for ultra-precision machining; assuring our multi-axis machining capabilities can reach their full potential. Serving industries including aerospace and aircraft, medical, defense, energy, and more; we've machined a diverse portfolio of products for our clients. Versatility, a reputation for achieving impossible precision, and dedicated customer care keeps our customers coming back to Owens for all of their CNC needs. Our sales professionals, customer service representatives, and engineers work tirelessly to deliver the best solutions for your business.
Below are some of the parts we've machined using 5-axis milling:
| | | |
| --- | --- | --- |
| Part | Application | Industry |
| Housing, Aileron | Flap Control | Aerospace |
| Machined Reflector | Wing Lights | Aerospace |
| Support Assembly | Aerospace | Aircraft OEM |
| Mixer Head Insert | Spray Nozzle | Automotive |
| Blade, Cutter | Cutting Safety Cable | Defense |
| Load Sleeve | Cable Clamp | Defense |
| Prism Base | Laser Focal Component | Energy Research |
| Impeller | Fluid Flow | Medical |
| Impeller, Polished | Experimental Heart Pump | Medical Research |
| Cylinder Block | Gas Flow Manifold | Natural Gas Industry |
| Ball Lock | Transmission Control | Oil & Gas |
| Bearing Housing | Shaft Coupling Device | Oil & Gas |
| Equalizing Flapper | Valve Cover | Oil & Gas |
| Flapper Mount | Valve Head | Oil & Gas |
| Inlet Cover | Pressure Flow Cover | Oil & Gas |
| Insert | Ball Bearing Flow | Oil & Gas |
| Radial Bearing Housing | Shaft Control Unit | Oil & Gas |
| Soft Seat | Well Head Seal | Oil & Gas |
| Soft Seat Retaining Ring | Well Head Seal Retainer | Oil & Gas |
| Optics Block | Laser Alignment Tool | Research and Development |
| Spiral Groove Bearing | Transmission | Research and Development |
| Valve Housing | Titan Rocket | Rocket Engine Component |
JavaScript is required for this website to fully function.