North Carolina EDM Machine Shop
Components Precision CNC Machined to your Exact Specifications
Owens Industries is an ISO Certified machine shop, serving industry professionals in North Carolina with the highest precision machining services – Wire EDM, Sink/Plunge/Ram EDM, 5 Axis Milling, Lathe/Turning Work, and Micromachining. Nearly every industry across the nation requires EDM machined components, including: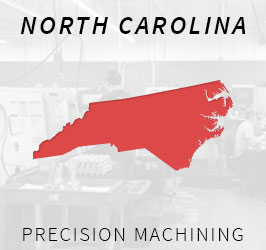 Owens EDM machining process produces incredibly fine detail and surface finish work, intricate cavities and precision gears. Wire EDM work is widely popular due to its ultra-refined process - the spark never comes into contact with the machined part, maintaining the integrity of the material and resulting in a burr-free finish. If you are looking to manufacture precision gears, choose Owens – we frequently produce precision gears with tolerance requirements as low as 1 micron.
Machine Shop Achieving Precise Accuracies on Custom Components
When you choose Owens Industries for you CNC machining needs, you are guaranteed unbeatable precision. Our 5 axis milling machines alone allow us to achieve an angular tolerance of just .002°. Paired with our old world deburring process (by hand), your parts and/or assemblies will perfectly meet your specifications and application needs.
Our team of manufacturing engineers have decades of experience (for most, a lifetime of CNC machining experience), producing consistently superior components for industries across the country. Owens is renowned for our fast turnaround times, manufacturing precision dependent components with repeatable accuracy. From surgical instruments to aircraft parts to complex optical components like a collimator, Owens Industries has the ideal solution tailored to your specific needs.
Contact our precision machining engineers today to discuss your North Carolina micromachining needs.

Owens Industries serves the CNC precision and micromachining needs of North Carolina, including but not limited to the following cities:
| | | | |
| --- | --- | --- | --- |
| Boone | Asheville | Hickory | Winston-Salem |
| Greensboro | Durham | Durham | Rocky Mount |
| Greenville | Fayetteville | Charlotte | Wilmington |
| Jacksonville | New Bern | Morehead City | Kill Devil Hills |