Ground, Sea, Sky, or Space Applications – If You Need Precision Parts, You Need Owens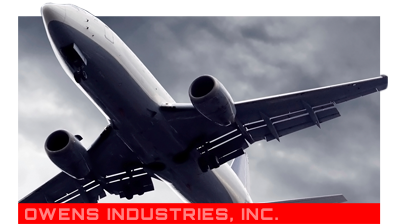 Los Angeles may be famous as the place where Hollywood movies are made, but in reality, the largest industry in LA isn't motion picture. It's the manufacturing industry. As a matter of fact, LA is the largest manufacturing center in the country, with over half a million workers in the industry.
Within this wide range of manufacturing companies, LA is especially proficient in the aerospace and aeronautical industries, with reputable companies like Boeing, Gulfstream, Northrop Grumman, and Lockheed Martin located in Los Angeles County. In addition, Los Angeles is home to companies such as Acromil, ASC Process Systems, Helipro, Aircraft Fasteners International LLC, Space Island Group, Honeywell Aerospace, Raytheon, Pentacon Aerospace Group, and the Orbital Sciences Corporation. Needless to say, there is a high demand for precision CNC machining services, and Owens Industries is here to deliver the highest accuracy results.
Owens Is the Answer
Alongside a well-respected reputation and reliability, Owens can provide you with the highest quality CNC machining services, including:



When it comes to the exacting procedure of precision CNC machining, Owens Industries is second to none.
When manufacturing aircraft components, 4 and 5-axis milling plays a major role. Owens Industries' top-of-the-line CNC machining technology outsmarts that of our competitors, crafting reliable products faster with higher precision. Owens provides unequaled micromachining services, using a combination of Lathe/turning, 5-axis milling and EDM processes to guarantee an impeccable product. In fact, our engineers can often help improve the design of your complex component. We're also willing to participate in research studies, to determine the best manufacturability practices for your design.
If a CNC machine shop has told you the aeronautics part you want and the specifics demanded are impossible to achieve, contact our "miracle workers" at Owens. Our biggest challenges are also our biggest successes.
| | |
| --- | --- |
| For a flawless application, aircraft and aerospace parts demand the highest precision and exacting accuracies. Depend on Owens to deliver components meeting or exceeding your quality standards. | Owens not only provides unmatched 5 axis milling, wire EDM, and lathe services, but we keep the specifics of your components completely confidential, ensuring vital secrets are not leaked. |
| Our CNC professionals are capable of machining a multitude of materials, and to the exact precision required when adhering to food processing industry standards. | Medical manufacturers and innovators alike choose Owens when they need to outsource CNC services, create prototypes, or simply cut costs while improving product quality. |
| When you need complex components for your oil & gas or energy applications, turn to Owens Industries. From micromachining to 5 axis milling, we can meet your every CNC need. | Microscopes, telescopes, cameras, and more requiring 100% accuracy on machined components will get nothing less than expected when Owens is on the job. |
| Food processing plants comply with a number of health codes and industry standards, often requiring parts of their equipment to be machined specific materials and precision; Owens is capable of meeting your exact needs. | Our CNC engineers have extensive experience with components intended for use with a wide variety of tool and die machinery. Tool and die production is a crucial part of many manufacturing processes. |
Contact our Precision Machine Shop for 5 axis milling and EDM services in Los Angeles.