Precision Wire EDM
Quality Cutting Process with Precise Results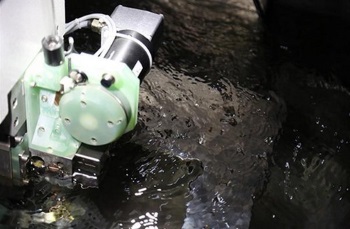 Advanced wire EDM technology and a climate controlled 'clean room' allow Owens Industries to exceed CNC standards and achieve impossibly tight tolerances. Our knowledgeable and experienced professionals are considered leaders in their field and are eager to discuss your part designs and create a machining process capable of producing repeatable accuracy and measurable precision.
Fine Wire EDM Services
Our precision wire EDM capabilities deliver consistently accurate cuts and superior surface finishes. Your desired shape is obtained by using a fine wire (the electrode) and deionized water that creates an electrical discharge (the spark) to cut metal. This process can cut extremely small-radius inside corners and very narrow slots, even in difficult to machine materials. This is perfect for a variety of industries, including aerospace and aircraft, medical, defense, tool and die, and manufacturing.
Some of the parts we've machined using wire EDM include:
| | | |
| --- | --- | --- |
| Part | Application | Industry |
| Actuator, Arm | Night Vision Goggles | Military |
| Aperture Plate | Laser Alignment | Energy |
| Bottom Clamp | Microwave Reader | Research and Development |
| Flexure | Electronic Control | Research and Development |
| Hex Stop | Shaft Control Component | Oil & Gas |
| Inner Diaphragm | Hydraulic Flow | Energy Research |
| Micro Tip | Instrument Cap | Medical |
| Nozzle Housing | Circuit Board Manufacturing | Electronics |
| Nozzle, Dispensing | Drug Dispensing Nozzle | Medicine Production |
| Plenum Base | Fuel Flow | Military |
| Spray Nozzle | Urethane Application | Automotive |
| Spreader Tweaker | Pick and Place Device | Circuit Board Manufacturing |
| Torsion Spring Pin Retainer | Retention Cap | Oil & Gas |
JavaScript is required for this website to fully function.