Precision CNC Machining for Houston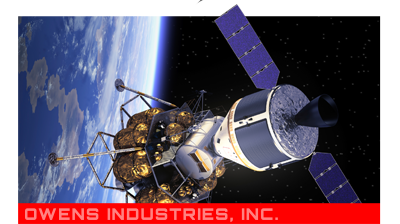 Get the Best CNC Machined Components for Texas Businesses in Aerospace
With over 6,000 manufactures, it's no surprise Houston's manufacturing and technology industries are advancing swiftly. But they are not the only noteworthy players in the game – Houston, Texas is home to NASA's largest R&D facility, the Johnson Space Center. Additionally, more than 150 companies – specializing in aircraft and space vehicle manufacturing as well as space research and technology development – make up Houston's aviation community. When these businesses and more need precision machined components to ensure their applications work flawlessly, they call on Owens Industries – the home of highly sought after, industry leading machinists and CNC technology.
Aircraft and Aerospace Parts Manufactured to Your Exact Specifications
Whether its microwave housing for satellites, a robotic arm assembly, anti-locking brake housing for an airplane, or anything in between – no matter your complex component, Owens is up for the job. We've worked with small parts integrated into airplanes, helicopters, jets, space crafts, and more. When you standard for accuracy is high, and your demand for tight tolerances essential to the operation of your application, the only machine shop to call is Owens Industries. Our reputation for ultra-precision micromachined components speaks for itself.
Large aircraft manufacturers like Boeing choose Owens for their precision machining services, including:


| | |
| --- | --- |
| For a flawless application, aircraft and aerospace parts demand the highest precision and exacting accuracies. Depend on Owens to deliver components meeting or exceeding your quality standards. | Owens not only provides unmatched 5 axis milling, wire EDM, and lathe services, but we keep the specifics of your components completely confidential, ensuring vital secrets are not leaked. |
| Our CNC professionals are capable of machining a multitude of materials, and to the exact precision required when adhering to food processing industry standards. | Medical manufacturers and innovators alike choose Owens when they need to outsource CNC services, create prototypes, or simply cut costs while improving product quality. |
| When you need complex components for your oil & gas or energy applications, turn to Owens Industries. From micromachining to 5 axis milling, we can meet your every CNC need. | Microscopes, telescopes, cameras, and more requiring 100% accuracy on machined components will get nothing less than expected when Owens is on the job. |
| Food processing plants comply with a number of health codes and industry standards, often requiring parts of their equipment to be machined specific materials and precision; Owens is capable of meeting your exact needs. | Our CNC engineers have extensive experience with components intended for use with a wide variety of tool and die machinery. Tool and die production is a crucial part of many manufacturing processes. |
For some clients, Owens' engineers help improve the part design for ultimate precision – and in some cases even improve the application design. When small parts are vital to getting your big aerospace projects off the ground, call Owens!